Liberal newspaper Express Tribune cowed into silence by Pakistani Taliban
Media Group -opts for self-censorship on terrorism after Taliban admits murder of three employees for critical reports on militants.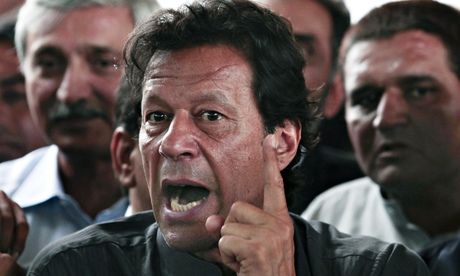 When it was launched four years ago, the Express
Tribune
set out to become the house newspaper of
liberal
-minded Pakistanis.
A newcomer to a
market
dominated by conservative-inclined papers, it made a point of writing about everything from the relentless rise of religious extremism to
gay rights
.
But in recent weeks the paper has been cowed into
silence
by an unusually blatant display of power by the
Pakistani
Taliban
.
The paper was forced to drastically tone down its coverage last month after three
employees
of the media group, which includes another newspaper and
television channel
, were killed in Karachi by men armed with pistols and silencers on 17 January.
The attack was later claimed by the Tehrik-e-
Taliban
Pakistan
(TTP), a large coalition of militant groups, which
accused
the media group of disseminating anti-Taliban
propaganda
.
Immediately following the killings, the paper's editor, Kamal Siddiqi, sent an email to staff outlining the paper's new policy.
Henceforth there would be "nothing against any militant organisationand its allies like the Jamaat-e-Islami, religious parties and the Tehrik-e-Insaf", the rightwing
party led
by
Imran Khan
, that strongly opposes
military operations
against the TTP.
There would also be "nothing on condemning any terrorist attack", "nothing against TTP or its statements" and "no opinion piece/
cartoon
on terrorism, militancy, the military, military operations,
terror attacks
".
Reporters
have been banned from describing a movement responsible for the deaths of thousands of civilians, soldiers and police as "outlawed" or "militant".
The terrorist
attacks
that
rack
the country on an almost daily basis are covered on the
news pages
, but are pared down.
"We do have exclusives, but we don't run them," Siddiqi said. "It's very frustrating at a personal level for all journalists. But we have decided that we won't do anything at least for the foreseeable future that will come back to haunt us."
Other changes include a more conservative approach to photographs of
female models
in the paper's lifestyle sections and
weekend magazine
.
Worst affected are the opinion pages. Once-feisty leader writers have almost entirely overlooked the near-
continuous
attacks that have rocked the country in recent weeks.
Ayesha Siddiqa, a regular columnist, said the muzzling of Pakistan's media was contributing to an "absolutely mesmerising information
deficit
" among the public.
"I said to the editor, 'what am I to do, start writing about cooking or films?' Because that's all that's left."
The killings followed a bomb and small-arms attack on the company's offices in Karachi in December. One reporter on the paper said the attacks had terrified many colleagues.
"The paper has an unusually young staff and a lot of the kids were pretty scared, with parents telling them they should quit," the staff writer said. "There were some people who said we should fight back, but they were a minority."
After the killings, a TTP spokesman, Ehsanullah Ehsan, was allowed to join by telephone a live discussion programme on the paper's sister television station, Express News.
He claimed responsibility for the killings, complained the company "was playing the role of propagandist in this war with the Taliban" and said it had ignored regular complaints he had emailed to the channel.
The TV show's host, Javed Chaudhry, promised that the station and newspaper would take pains to present the TTP's position "without any trimming".
"We will have a balanced and impartial attitude towards you and will convey your point of view to the people but we have only one request: that our colleagues should be protected," he told the TTP spokesman and watching audience.
Although much of Pakistan's national debate is conducted in the country's generally right-leaning Urdu press and television, the TTP monitors everything.
Ali Dayan Hasan, of Human Rights Watch, said: "The Taliban and other armed groups have threatened the media over their coverage for several years, but now those threats are ratcheting up by accompanying attacks.
"It's an extremely effective tactic that does far more than just
censorship
, it also skews the entire national debate."
Siddiqi, the editor, said he could not risk any more lives.
"The fact is three people have been killed and no one out there is protecting us," he said, pointing out that no arrests had been made in connection with either of the attacks on the company.
"We are on our own. We have to look out for our own people."