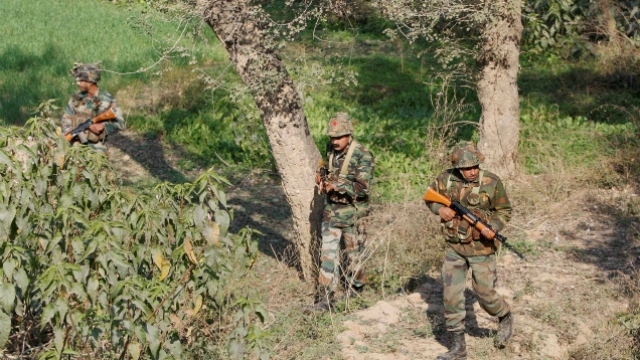 The information was further shared by Jammu and Kashmir police with their counterparts in Punjab on Dec 30.
The attack on Indian Air Force's airbase in Pathankot has highlighted the capabilities of militant groups to strike anywhere in areas close to Indo-Pak border, but, the terror strike has also once again laid bare mechanisms employed by security establishment to avert such incidents.
Documents accessed by dna show that on December 30, security agencies based in Jammu and Kashmir, had sent out information about a group of 15-18 'specially trained fighters' that had crossed over from Pakistan to carry out attacks on vital installations.
"According to an in Lashkar-e-Taiba, Jamaat-ud-Dawa organised a group of approximate 15-18 specially, trained fighters to carry out attack in India during New Year's celebration. The group has reportedly left from
Pakistan and could already be in India. Their intention may be to carry out 26/11 Mumbai style terror attack. Possible target include vital installations and important locations. In view of the above, it is requested that all necessary preventive and security measures may be taken to avoid any untoward incident. Matter most urgent," explains the document.
According to sources the input was received by DG Jammu and Kashmir police who dispatched the same to the entire police department. The information was further shared by Jammu and Kashmir police with their counterparts in Punjab.
The note was sent two days prior to the kidnapping of former Gurdaspur superintendent of police, and three days prior to the attack on Indian Air Force base. Salwinder Singh, who was transferred two days ago as Assistant Commandant, 75th Battalion, PAP complex, Jalandhar, told investigators that he, Gurdaspur-based jeweller Rajesh Verma and his cook Mohan Lal were on their way to a religious place in his car when they were kidnapped in Kolian village near Pathankot. Singh had claimed that five militants, in army fatigues and armed with rifles and grenades, had abducted him in the wee hours of Friday and set him free an hour later, 35 km away.
"While it was believed that the trained fighters might be belonging to LeT, it is now being speculated that the attackers might actually be Jaiesh-e-Mohammad militants," said a senior intelligence officer. The officer added, "We are yet to decipher the possible purpose of the attack but at prima facie it appears that the attackers want to send a message that they can strike anywhere".
While intelligence agencies tolddna that the attack on airbase might be a show of strength, Jammu and Kashmir Police department said that the reason behind JeM's resurgence is a desperate attempt to remain relevant in Kashmir especially after Kashmir-centric groups like Hizbul Mujahideen and Lashkar have been leading the insurgency in the valley.
JeM had last year claimed responsibility for an attack on Gorkha Rifles Camp in Tangdhar area, which resulted in the killing of a military contractor and three militants.In December 2014, six militants of Jaish-e-Mohammad had attacked an Army base in Uri (North Kashmir).