Drought continues to wreak havoc in SW China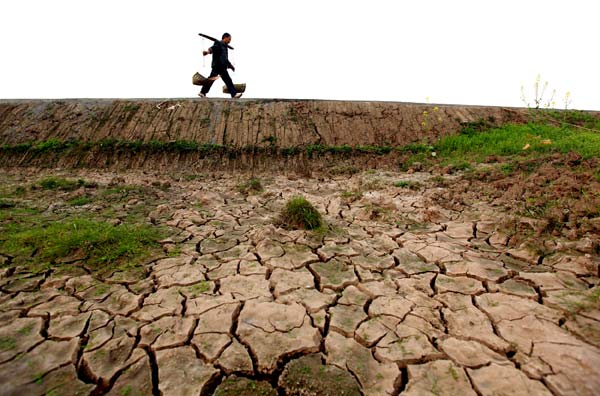 Little rainfall over the winter and into the spring has left many areas across southwestChina facing a severe drought.
As of Wednesday, nearly 2.6 million people and more than 1.33 million heads of livestock insouthwest Chins'a Yunnan Province were facing a drinking water shortage, the provincial FloodControl and Drought Relief Headquarters said Wednesday.
Dry weather and rising temperatures from February 18 to March 10 have expanded thedrought to 15 cities and prefectures across the province.
Drought has affected the cities of Kunming, Yuxi, Chuxiong and Dali for four consecutive years,the headquarters said.
In Dabaihu Village in Yanshan County of the Zhuang-Miao Autonomous Prefecture ofWenshan, villagers need to drive 5 kilometers to buy water, as the reservoirs and ponds haveall dried up.
"It costs 25 yuan to buy 1 cubic meter of water. My family is not rich, so we could only buy 400yuan worth of water each time, but we spent almost 2,000 yuan buying water last winter. Wehave no idea how our lives will go on if it won't rain," said Wang Jiancheng, a villager ofDabaihu. (25 yuan is equal to about 4 U.S. dollars.)
Lingering drought has also had a grave impact on western parts of neighboring GuizhouProvince, where more than 910,000 people, 130,000 heads of livestock and 51,400 hectares ofcrops have been affected.
Guizhou's civil affairs department said more than 3,000 hectares of crops will be barren due tothe drought, and direct economic losses will exceed 200 million yuan.
A farmer carrying water walks past a pond that has dried up from the prolonged drought inGuang'an city, Sichuan province, March 10, 2013. [Photo by Qiu Haiying/Asianewsphoto]
Meanwhile, southwest China's Sichuan Province has seen the widest-reaching drought in twodecades.
As of March 15, 126 counties in 12 cities and prefectures had been hit by the winter-springdrought, with 715,200 people and 789,400 heads of livestock short of drinking water, accordingto the provincial drought relief office.
Relevant departments in those provinces have taken action to ensure people's water supplies,protect crops and reduce economic losses.